Today, Molly and her sisters brush their teeth and put on their pajamas to get ready for bed. But Papa's job doesn't end after tucking the family in for the night. Missing toys, drinks of water, and more keep the doggies awake. Will they finally settle in? Will Papa ever get some sleep?
Children's picture book about a sweet little doggie named Molly Paws and her family.
Created by a dog dad, every story is based on a real-life event.
Toddlers and preschoolers ages 0-5(ish) will enjoy the cute illustrations of the dogs.
Moms, dads, and grandparents will love reading the heartwarming stories.
What folks are saying:
"Whether you're team doggie or team kitty, your child will love Bowwow Bedtime by Papa Paws. It might just become their favorite bedtime story." -Kameron B., Reedsy Discovery
On Sale July 12, 2022!
---
The Real-Life Stories Behind the Book
The Everyday Adventures of Papa & Paws: Bowwow Bedtime! was inspired by these events.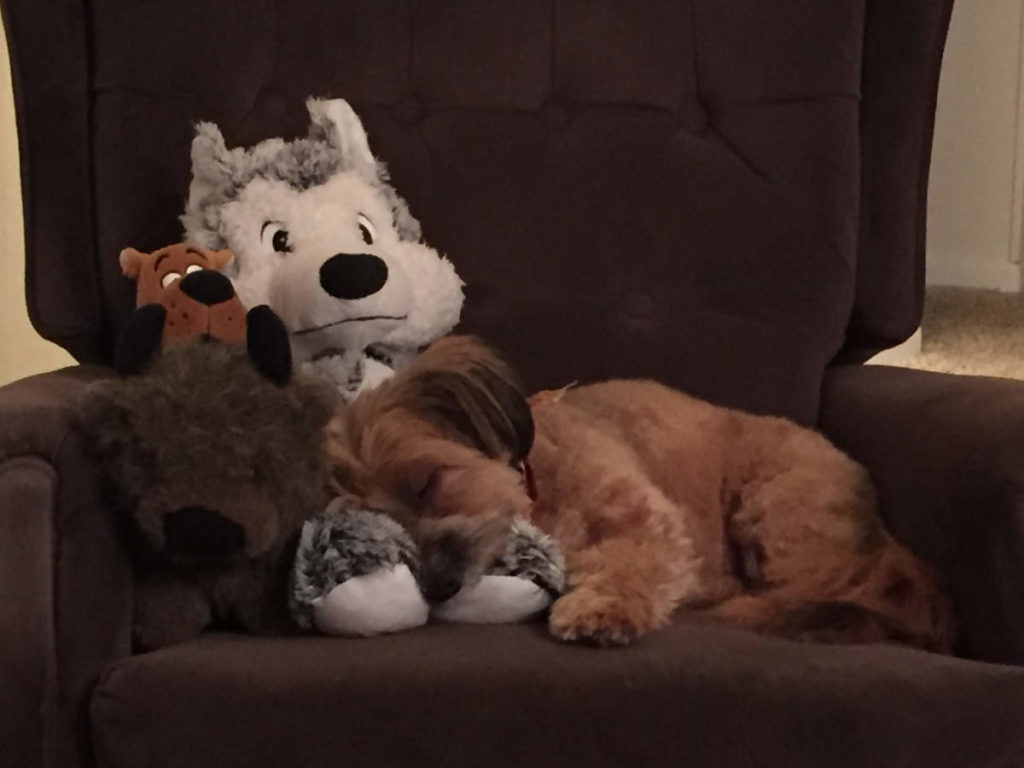 Before I knew Molly Paws, I had won a stuffed wolf toy at a local county fair a few year back. I named him Wolfy and when my wife and I moved to our house, I put him in one of the chairs in the living room across from where I usually sit on the couch. Molly Paws loves to lay on chairs and claimed the one with Wolfy as hers. Molly never treated him like a chew toy and didn't seem to mind the stuffed toy sharing her space. She even took to snuggling up to Wolfy like a pillow for naps. Wolfy became Woofy during the proofing process because we thought it would be a cute detail to add.
As a part or our routine, I let the girls out each night between 1 a.m. and 3 a.m. to potty. Marley has never liked going outside, even when she was a puppy for potty training. Sometimes she would go right away, but most of the time she would sniff around. And sniff some more. Then sniff other things. And then forget that she had to go potty. We'd come inside and she's be asking to go outside right away because she remembered that she still needs to go potty. While she has outgrown it mostly, she still gets what we call "Puppy Brain" where she goes out and then gets distracted.
---
Book trailer
Papa Reads the book
Other Books in the series