Today Molly Paws learns about being a good big sister. Molly discovers that Mama and Papa have brought home twin sisters. In no time at all, these puppies take over the whole house, leaving Molly frustrated. Can Molly learn to share the house and her stuff with her new little sisters?
Children's picture book about a sweet little doggie named Molly Paws and her family.
Created by a dog dad, every story is based on a real-life event.
Toddlers and preschoolers ages 0-5(ish) will enjoy the cute illustrations of the dogs.
Moms, dads, and grandparents will love reading the heartwarming stories.
---
What Folks are Saying
"I thought it was ok. I wished there had been an adventure and monsters and stuff like that. I did understand all the story and I think Molly understood sharing better by the end. It is difficult to share, so it's important children try to as it helps other children to be happy."
"We received a free copy of this book and I am voluntarily leaving this review. My girls love Molly Paws! I had my first grader read this book and it was perfectly fitting. She's the oldest out of three and she said she was just like her! So this is perfect for an older sister to read!!! She was able to relate to this book so much! It was so cute and beautifully illustrated too!"
I love cute animals. I love a good kids' book. And being a big sister myself, I love this heartwarming adventure starring Molly Paws and her two new sisters. Molly's a good dog who loves her family very much. But adjusting to being a big sister can be hard. What's the right way to take care of two new sisters, anyway? Follow Molly on her journey to becoming the best big sister ever in this charming story the whole family is sure to love.
Papa Paws, the author, is a fellow graphic novelist, and this book could technically be classed as a comic book for young readers. With bright, simple yet beautiful illustrations, and gentle text, this lovely, whimsical tale about family is one of my new favorites. While I wasn't sure what was going on at first glance, the story soon became clear as I discovered it was truly a junior graphic novel. Molly and her new sisters are adorable, and the pastel colors of the art are soothing and comforting after a long day. I can tell that so much heart went into every page, and as a big sister myself, I identified with Molly very easily. Be prepared to cringe as the new twins get into trouble, and smile as you learn along with Molly that being a big sister takes a lot of hard work, but is well worth it at the end of the day.
Perfect for anyone who loves a good pet story, this cheerful tale of family love is great for young children. And if you happen to be a parent or older sibling that likes comics, this is an excellent choice for introducing the little one in your life to the wonderful world of graphic novels. Great for bedtime or anytime, the adventures of Molly and her family are a collection sure to warm your heart.
"I thought this was a sweet story. I liked the dogs. Molly was the best in the story. It's difficult sharing with sisters and brothers so I know how Molly feels."
"I was given this children's book for free to read and review. My four year old grandson and I read every day and we are always on the look out for fun and good new books. This cute little story was right up our alley. Written from the perspective of Molly the dog as she gets to know her knew twin puppy sisters; it is a delight to read. Molly goes from frustration to education of her new siblings who it turn grow to love and respect their older sister as well. This is a sweet story but the illustrations are what make the book so adorable. My grandson just loved each page. He gave this book a whole hearted double thumbs up. So we recommend you spend so time with Molly and the twins you won't regret it."
---
The Real-Life Stories Behind the Book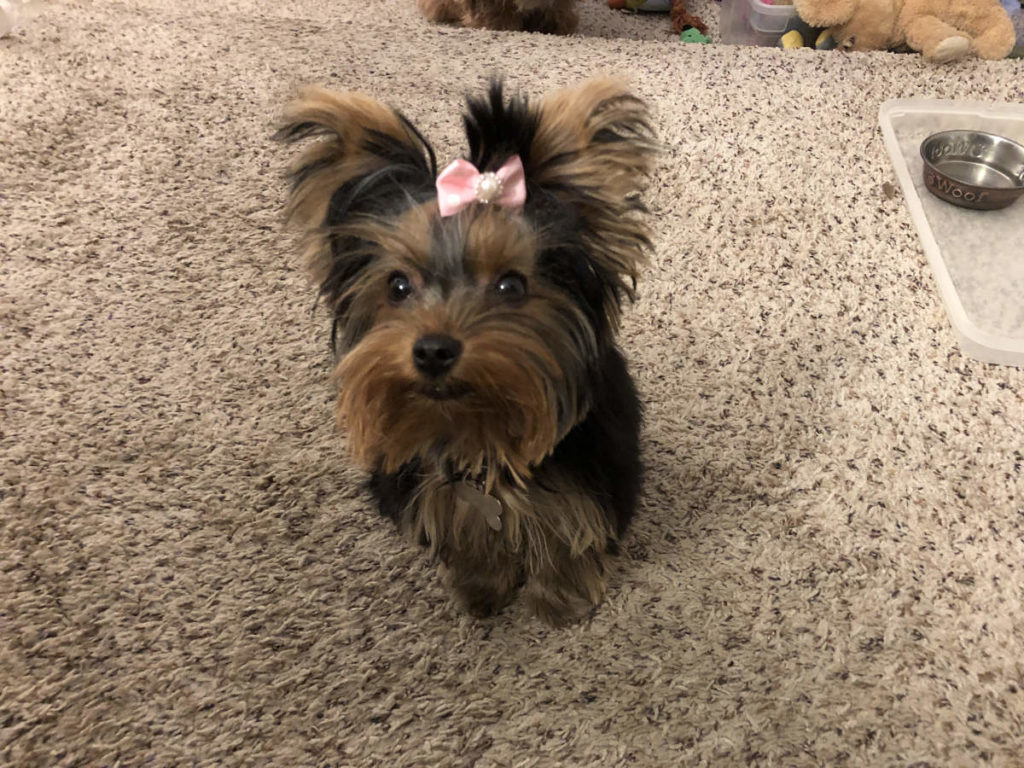 We adopted Zoe (Zozo) in December of 2018 from a local Yorkie breeder. She was such a tiny doggie, only 2-ish pounds when we got her. She was a people person through and through. At Puppy Kindergarten, she would go around and visit all the humans instead of play with the other doggies. She LOVED the snow and her big sister, Molly Paws. We were shocked and heartbroken when she passed to the Rainbow Bridge at only 9 months old. I'm so happy I can keep her memory alive by creating new adventures with Zozo and Molly Paws that she didn't get to have in real life.
Marley (Momo) was one of the dozens of Yorkies abandoned in January of 2020. Our contact at one of the local organizations who helped rescue them gave us the chance to adopt her in April of 2020 and we said yes. Marley is a sweet girl who is an indoor doggie. She's a bit of a Mama's girl, but she loves her Papa and big sister Macy. She loves to go on a walk with the whole family and second dinner. Although she and Zozo never got to play together in real life, I love that they are twins in the books so they can have adventures together.
---
Book Trailer
papa Reads the Book
Other Books in the series