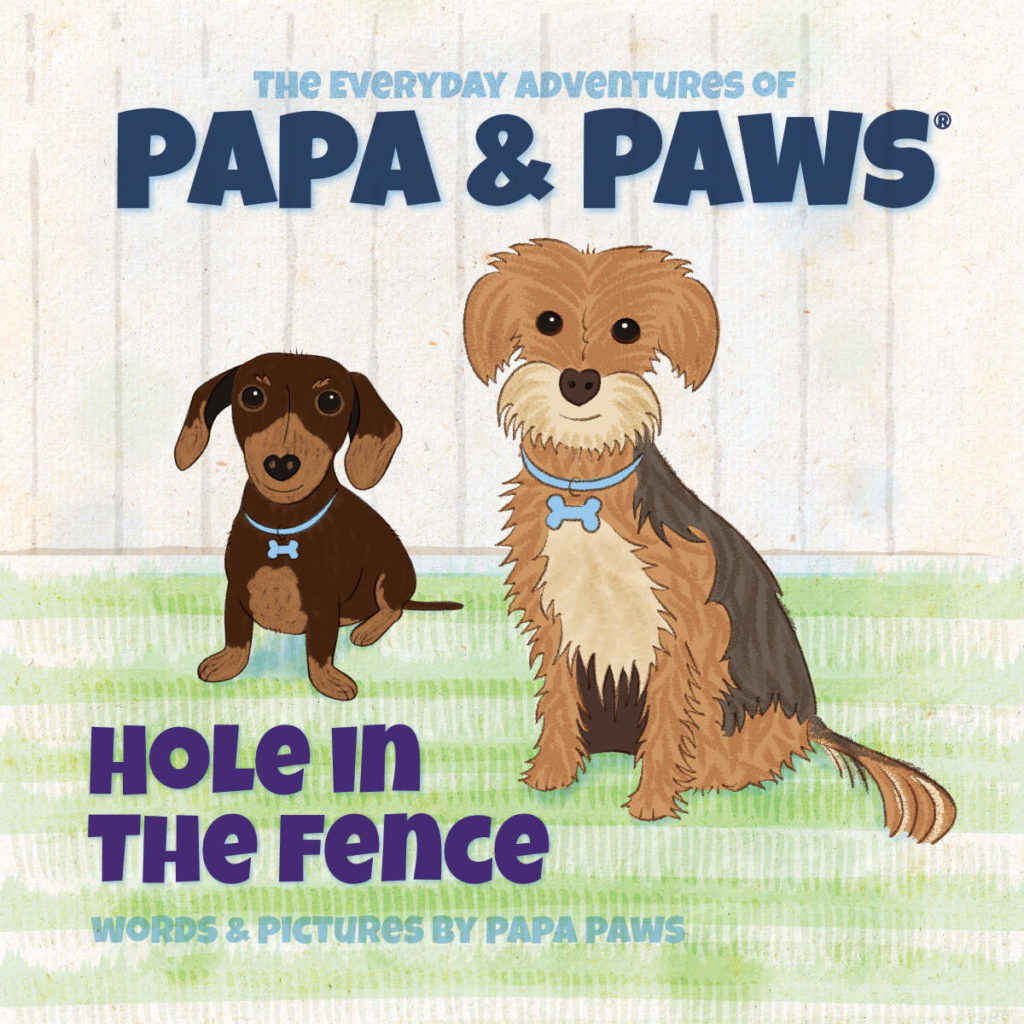 Today, Molly and her sisters discover holes all over their yard. They dig up the truth about who caused the mess while coming over to play. Papa sees the damage to the yard and is not happy. He surprises everyone with his idea. Can they all work together to help fix the problem?
Children's picture book about a sweet little doggie named Molly Paws and her family.
Created by a dog dad, every story is based on a real-life event.
Toddlers and preschoolers ages 0-5(ish) will enjoy the cute illustrations of the dogs.
Moms, dads, and grandparents will love reading the heartwarming stories.
---
What Folks are Saying
"Sweetly written and packed full of adventure. Children will love it, particularly if they love dogs!"
My daughter loves Papa and Paw's series. This latest installment teaches a fun lesson about telling the truth. It also shows that doing a job can be fun if everyone works together. A few of the pictures made me laugh out loud! This is a fun addition to any family library. Looking forward to the next one!
"I would call this an early reader book and one that grandparents and parents will enjoy reading with their children."
Hole in the Fence is a another great story by Papa Paws. It teaches children about honesty and teamwork through simple and easy to read text and cute illustrations.
I love books that are not only fun to read with wonderful illustrations, but those with a lesson embedded in it. Hole in the Fence is one of those books. The author does a great job of subtly teaching children two big lessons.
Children will not only learn to be honest and work as a team to solve problems, but receive a small lesson about sizes too (small vs. medium vs. large.) And, a little lesson on investigation/finding the root cause of a problem too.
The author also encourages adults to let children participate in executing the solution to a problem. It will give children confidence and make them feel like adults.
Children ages 1-5 will enjoy this story. I know I did. Little ones will have fun listening and looking at the adorable illustrations. Five-year-olds will like reading aloud as the text is simple and easy.
The story has a sweet and positive tone to it. Even when Papa is upset, it doesn't feel like doom and gloom. This helps readers (children) to feel comfortable in telling their parents the truth.
I love the illustrations. The colors are very soft. Everyone will love the adorable main characters. The dogs will put a smile on your face and warm your hearts.
I really enjoyed reading this story and look forward to reading more by Papa Paws. Great work!
"Wonderful characters to follow along in the story. Families are going to enjoy reading this book together. Beautiful illustrations help tell the story. Great bonding story of families working together to solve a problem. Good read."
---
The Real-Life Stories Behind the Book
One morning before work and after I let Macy outside. It was time for her to come in, but she didn't respond when I called her name. It wasn't like her to not come to me. I was getting worried so I headed out into our yard to investigate only to find a hole in our privacy fence!
Macy had hopped through the hole into our neighbor's yard, which thankfully is also fully fenced. I had to trek over to their house to go retrieve a very confused doggie. She was so happy to be in her own yard again. I put her in the house while I figured out how to repair our fence before going to work.
Harley was a dachshund we rescued a few years ago (who has now passed to the Rainbow Bridge). As the story progresses, we see Harley carrying yellow roses in her collar.
We had tossed some roses into our flowerbed to "give them back to the earth" one day. A day or so later, Harley and her sisters went out to do their doggie business. After she came back inside, we all sat on the couch to watch a movie. A few minutes later, I noticed that she had one of the roses in her collar. We still have no idea how she did this!
---
Book trailer
Papa Reads the book
Other Books in the series