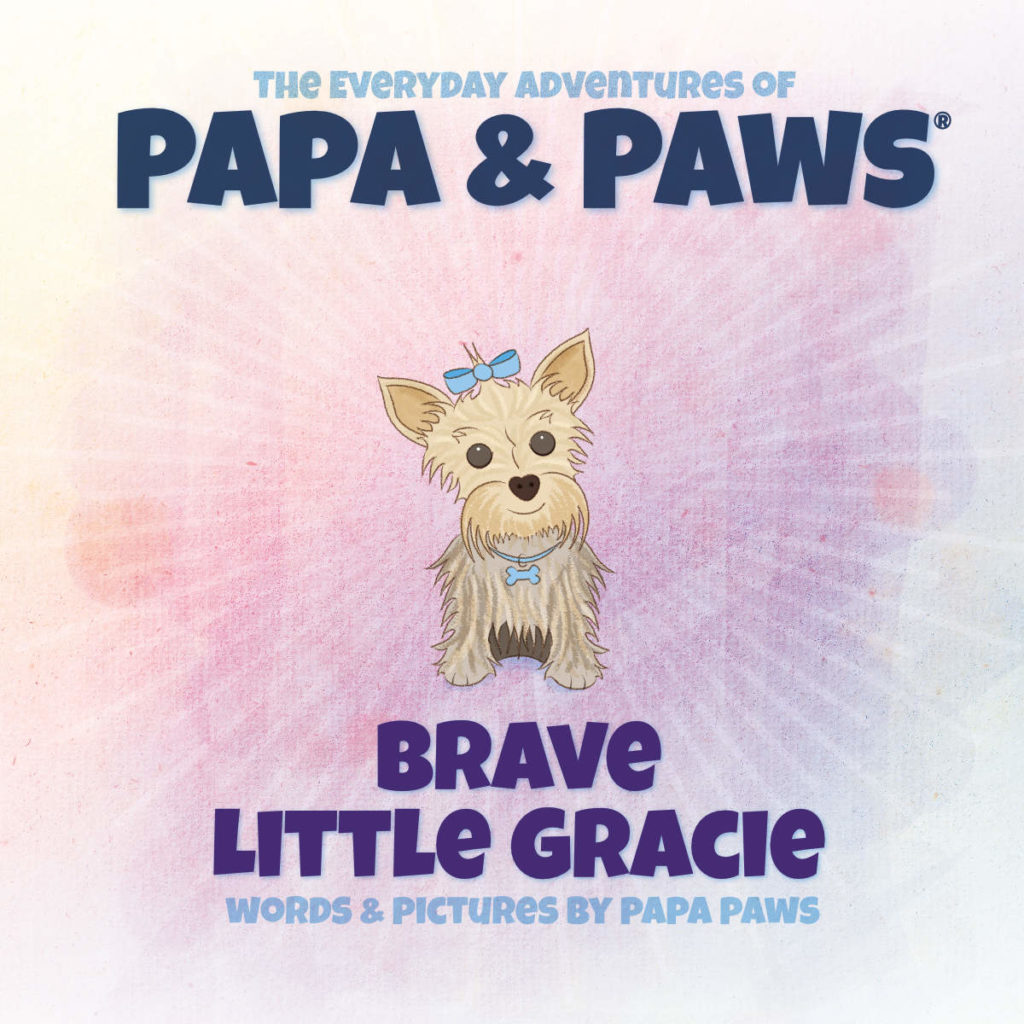 Today, Molly and her sisters ask Mama to tell them the inspiring story of the bravest Yorkie, Gracie. Life was tough for little Gracie. She started out in a not-so-nice place before finding a home with the Paws family. No matter the obstacle, Gracie never stopped being a happy doggie who loved everyone she met.
Children's picture book about a sweet little doggie named Molly Paws and her family.
Created by a dog dad, every story is based on a real-life event.
Toddlers and preschoolers ages 0-5(ish) will enjoy the cute illustrations of the dogs.
Moms, dads, and grandparents will love reading the heartwarming stories.
---
What Folks Are saying
"Such a touching story filled with real life emotions and beautifully illustrated. So much love for this little Yorkie Gracie who loses her sight but her family supports her; this teaches kids so many important lessons like caring, empathy, and helping others who are different".
"So cute. I love that that celebrate gracie's life instead of just mourning her death. The illustrations are beautiful. My 6 year old lived [sic] it"
Brave Little Gracie is a simply, sweet, and heartwarming story about a small and kind dog named Gracie who did not let the negative parts of life impact her happiness.
This story made my heart melt as I read it. Through the illustrations and prose, you can see what an adorable and loving dog Gracie is and fall in love with her. Even when the negative situations are being described and depicted, you don't feel a sense of darkness – you feel sadness with a touch of hope. Very soft colors were used for both the illustrations and wordings which added to the tone of the book.
Through the story of Gracie, children will learn to try to keep a positive attitude during the tough times and not let bad things get in their way. They will learn they can overcome any obstacle.
Animal lovers (and non-animal lovers) will really enjoy this book. I highly recommend it.
"Hello there. Just wanted to let you know that me and my grandson just finished reading "Brave Little Gracie" and loved it. Thanks for sharing this story."
---
The Real-Life Story Behind the Book
Gracie was the bravest Yorkshire Terrier I have ever known. When I met her, she was blind and had small dog Encephalitis. That did not stop her from protecting her Mama when I was still a new person in her life. Nor did it stop her from learning to navigate three different houses in the short time I knew her. At the end of the day, she would sweetly snuggle up between me and my wife as we watched TV.

She passed to the Rainbow Bridge the weekend after my wife and I got married. And as I reflected on our sweet girl, I was inspired to tell her story. "The Little Yorkie That Could" was my basic premise since she overcame so many obstacles in her life.
As it turns out, this idea was the first spark of what became The Everyday Adventures of Papa and Paws children's picture books. I'm so happy that I finally get to tell Gracie's story and celebrate our wonderful, sweet, and loving doggie's life.
---
Book trailer
Papa Reads the book
Other Books in the series