The Everyday Adventures of Papa & Paws® Book 8: doggie Detectives
Today, Molly Paws and her sisters discover another dog toy is missing. Their toy box is empty, so they put on their detective hats and work together to find clues to solve the mystery. Will they ever see their toys again? Will they find out who did this?
Children's picture book about a sweet little doggie named Molly Paws and her family.
Created by a dog dad, every story is based on a real-life event.
Toddlers and preschoolers ages 0-5(ish) will enjoy the cute illustrations of the dogs.
Moms, dads, and grandparents will love reading the heartwarming stories.
---
What Folks aRE saying
Kids will enjoy the graphics in this cute story. And as a parent, I liked how the dogs used each of their senses to solve the case. Recommended to children age 5 and under.
"…Doggie Detectives is a cute, fun story about a doggie family and their quest to find their missing toys. The story is told through doggie dialogue, each comment displayed in word bubbles and accompanied by illustrations, making this format similar to a graphic novel or a comic book. Young readers will be attracted to this layout and enjoy reading the story with ease. As well as Molly Paws' important key message at the end, children will learn about teamwork, caring for each other, and forgiveness, as well as specific animals, like the cardinal, the raccoon, and the squirrel."
"Doggie Detectives (The Everyday Adventures of Papa and Paws)" is a fun, interactive storybook with charming illustrations.
This is a cute little book for story time with younger children. The doggy detectives are taking up the case on finding their toys that are mysteriously disappearing one by one. Through great illustrations and engaging storytelling, the book leads readers, and listeners to where the missing toys are and who is the culprit. I even smiled at the end of the book because the little Yorkie said what I had been thinking. This book would make a great addition to a home library of pre-readers that enjoy story time with a loved one.
This was a very cute story book. The graphics are pretty to look at if they can't read. I was given an arc and I choose to give an honest review.
---
The Real-Life Stories Behind the Book
Marley is a gentle doggie and she always wants to go outside in the warm weather to play with our resident squirrel, Timmy. I was fortunate enough to snap a pic of them saying hello to each other one morning. Timmy the Squirrel deliberately waits near the patio for Macy and Marley to come out and then he runs up the tree. Macy barks while Marley watches him with fascination. We think she may be disappointed that he doesn't stay to play.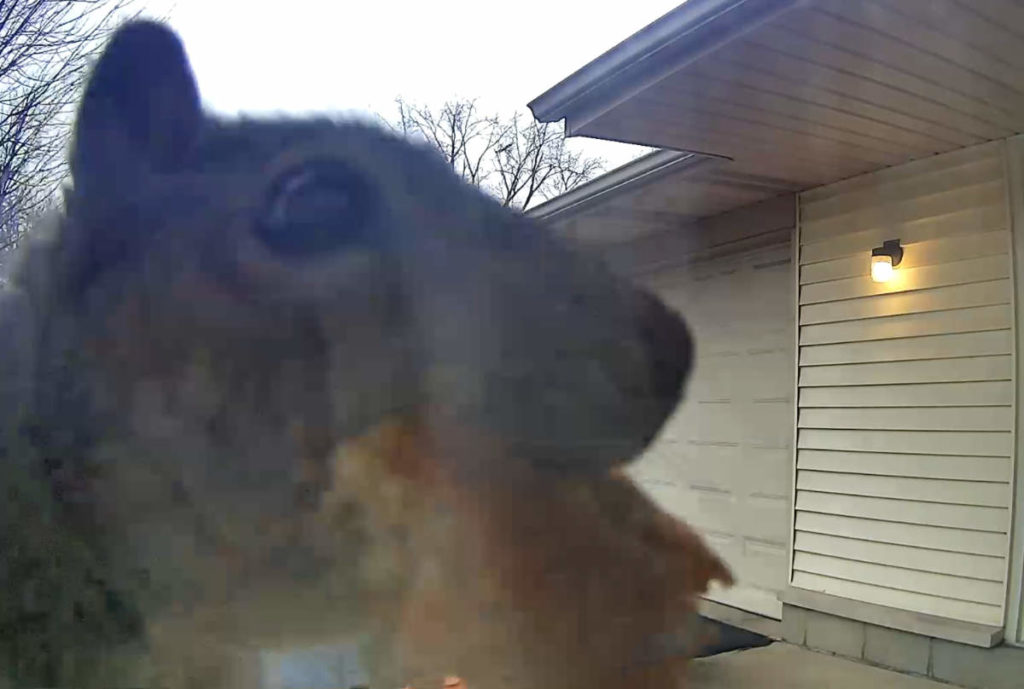 Timmy the Squirrel loves to visit the Paw Family. He enjoys playing hide and seek with Macy and Marley. He really enjoyed the pumpkin we sat out last fall (he ate most of it!). And we caught him taking advantage of our free bread for squirrels on our camera. He popped his nose right up to it to say thank you for the goodie. Even though he has not taken a doggie toy in real life, it seemed like a fun element for our mystery adventure.
---
Book trailer
Mama reads the Book
Other Books in the series